Annual press conference 2018 in Jakarta
Bosch records double-digit growth in Indonesia
Expansion of local footprint, products, and services portfolio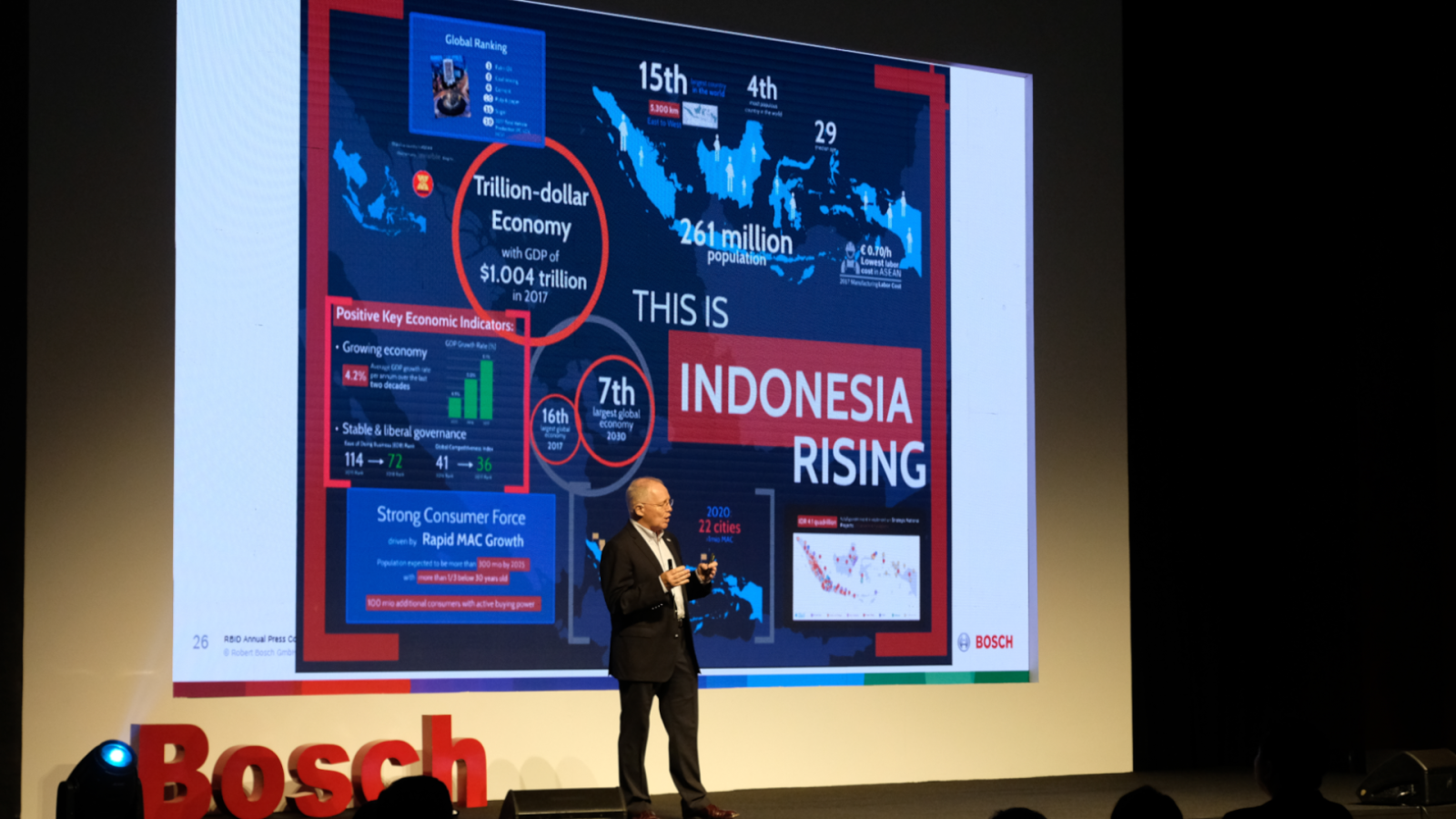 Strong sales growth across business sectors
IDR 1.6 trillion (104 million euros) in third party sales in Indonesia
28 percent sales growth compared to the previous year
Local expansion in terms of geographical and digital reach
Bosch continues to advocate for more road and vehicle safety in Indonesia
Jakarta – Bosch, a leading global supplier of technology and services, ended its 2017 fiscal year with around IDR 1.6 trillion (104 million euros) in consolidated sales in Indonesia, thus registering a double-digit growth of 28 percent compared to the previous year. "In 2017, we made great strides in strengthening our organizational structure, expanding our distribution channels and completing various landmark projects. In total these measures led to a strong increase in our turnover," said Andrew Powell, managing director of Bosch in Indonesia. The company currently employs around 230 associates and the workforce is expected to steadily grow in the coming years.
Expansion of geographical reach and product portfolio
The strong economic growth in Indonesia is expected to continue and to present many opportunities to Bosch, bolstered by the development in the automotive business as well as by infrastructure and commercial projects in the country. "We are intensifying our efforts in expanding our geographical reach, products and services offerings. This allows us to enter new market segments in line with the rising affluence of the country and its increasing demand for advanced technologies in everyday life," said Powell. In 2018, Bosch identified the cities of Makassar, Palembang and Jayapura as new branch office locations. These emerging cities provide greater access to promising markets, such as agriculture, infrastructure and mining, which are important industries for Bosch. Online sales are becoming an increasingly important growth factor for Bosch with flagship stores established on Indonesia's most prominent e-commerce platforms such as Lazada, Tokopedia, Shopee, Bukalapak, Blibli, JD.id and iLotte.
Intensifying automotive capabilities and localization efforts
Indonesia is the biggest car sales market in Southeast Asia, accounting for about one-third of the total annual car sales in the ASEAN region. According to the Indonesian Motorcycle Industry Association (AISI), Indonesia's motorcycle sales are the biggest in Southeast Asia (and the third highest globally) with 5.88 million units sold in 2017 alone. To address the fast-growing automotive industry in the country, Bosch is accentuating localization efforts of its automotive products and components. In April 2018, the company delivered the first electronic control unit (ECU) with "Made in Indonesia" label manufactured at its existing powertrain facility in Cikarang, West Java, to its customers. In October 2017, Bosch acquired land usage rights in Cikarang for potential future development of its local footprint.
Continuous advocacy for road and vehicle safety
Bosch continues to place strong emphasis on the development and deployment of intelligent solutions designed to enhance safety and comfort for all vehicles in Indonesia. This effort is in line with the government's aim in reducing the number of road traffic accidents in the country. In March 2018, Bosch signed a Memorandum of Understanding (MoU) with the Ministry of Transportation to conduct joint activities on road safety awareness and industry's best practices sharing on vehicle safety technologies. Subsequently Bosch shared the research collaboration's result between Bosch Accident Research and the University of Indonesia. The study analyzed the current road traffic situation, in particular motorcycle accidents to help identify effective countermeasures. The study shows that 76 percent of accidents involving motorcycles are anti-lock braking system (ABS) relevant collisions, which could potentially be avoided by equipping two-wheelers with ABS. Bosch develops solutions for all accident scenarios to completely eliminate the risk of fatal accidents worldwide.
Positive development across Bosch business sectors
In fiscal 2017, sales revenue for Bosch Indonesia increased across all of its four business sectors. Bosch's Mobility Solutions business sector posted strong double-digit growth in 2017. The increase was supported by the expansion of the two-wheelers market in Indonesia and the Automotive Aftermarket division's growth. The introduction of the iBooster - a vacuum-independent, electromechanical brake booster for all powertrain concepts – also contributed to the business sector´s success. Sales for the Consumer Goods as well as the Energy and Building Technology business sectors grew in line with the market with the completion of high-end residential and landmark projects in 2017, such as home appliances for Pondok Indah Residence, DCN multimedia systems for The House of Representatives of the Republic of Indonesia, and video surveillance solutions for Bank Mandiri. The Industrial Technology business sector is placing a strong focus on factory automation and advanced manufacturing. The recent launch of the roadmap "Making Indonesia 4.0" by the Indonesian government brought rising demand for connected factory solutions and automated manufacturing processes.
As part of company's commitment to a healthy social environment, Bosch will continue its social act to support the maintenance of Bersinar orphanage – which was initiated in 2015, and is setting up another CSR project in Papua for 2018.
Bosch Group: Global strategy and business outlook for 2018
Bosch is aiming for further growth in 2018, despite the difficult economic climate. After achieving record results in 2017, and in light of economic and geopolitical risks, the Bosch Group expects its sales revenue to grow by 2 to 3 percent in 2018. In the first three months, the sales revenue generated by the company matched the high level of the same period of the previous year, and even increased by around 5 percent when adjusted for exchange-rate effects. "Our company is unequaled when it comes to combining comprehensive connectivity expertise with broad industry and product know-how. This is the Bosch Group's unique selling proposition," said the Bosch CEO Dr. Volkmar Denner, speaking at the annual press conference in Renningen.
Contact person for press inquiries:
Shinta Maryke
Corporate Communications