Annual press conference 2022 in Jakarta
Bosch showing significant growth momentum in difficult market environment
Despite market disruptions Bosch achieves strong growth in 2021 and raises outlook
2021: Sales: 1,55 trillion IDR
Accelerated by the automotive sector recovery Bosch recorded sales growth exceeding 23 percent in 2021
Hopes to further grow its business through portfolio expansion and supply chain robustness
Jakarta – In the 2021 business year, Bosch achieved significant growth in sales in Indonesia despite a difficult environment. Sales revenue generated by the supplier of technology and services rose by 23% percent to 1.55 trillion rupiah.
"The A challenging market environment driven by the pandemic restrictions, supply chain disruptions and raw material shortages challenged our business operations in 2021. Despite these challenges we saw significant growth momentum across nearly all our business segments," said Pirmin Riegger, managing director of Bosch in Indonesia.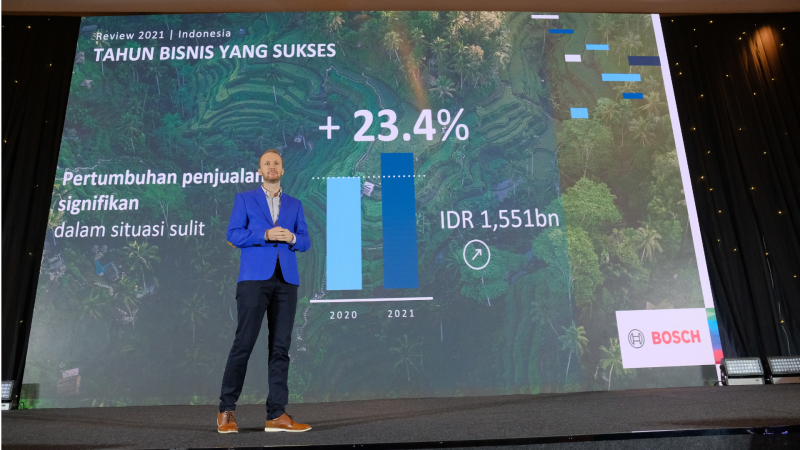 Bosch's portfolio diversification played an important role in capitalizing the full growth potential after the easing of the pandemic. In line with the overall recovery of the automotive industry, Bosch saw significant double digit growth rates in its Mobility Solutions business. Especially the automotive components business profited from increased vehicles sales in Indonesia. The harder impacted Energy & Building Technology segment stabilized in a very challenging market environment impacted by reduced infrastructure development.
While the Industrial Technology business accelerated on business developments beyond its core unit hydraulics, especially in the area of factory automation, profiting from a robust Indonesian manufacturing market and an increased demand for smart production setups. The Consumer Goods segment continued to profit from increased product demand due to the pandemic restrictions. Both appliances and tools saw strong momentum.
In light of the current situation, Bosch has already significantly revised its expectations for the global economy however remains optimistic on its growth developments in Indonesia. "Based on the first 5 months of the year we see the strong growth momentum continuing in Indonesia. Bosch is well positioned to rise to the challenges during this volatile markets and we are confident to also deliver substantial growth in 2022," said Riegger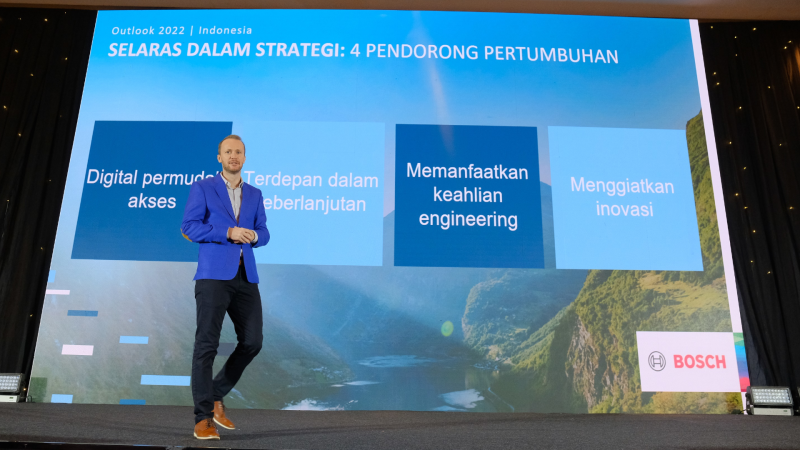 Leveraging Bosch growth drivers
In order to achieve continued growth Bosch relies on a number of growth drivers.
"The accelerated digital transformation in Indonesia helps us to expand our market access. For us digital developments are not just restricted to an expanding ecommerce business, but also power our physical expansion in Indonesia. We are intensifying our effort to expand the geographic reach and portfolio of our company's products and services," said Riegger. In the first half of 2022, Bosch opened a new warehouse in Makassar and a representative office in Batam to shorten delivery times and provide faster service.
E-commerce, brand stores and marketplaces to serve customers better
The intensified footprint expansion is also reflected in the increased presence of Bosch on all leading ecommerce platforms, making it easier for consumers to reach Bosch their mobile screens. Especially for its Home Appliance unit Bosch moved closer to its customers by making Bosch Home Appliances available across all major electronics stores. this is planned to be complemented by the anticipated launch of the first Bosch home brand store later this year in Jakarta.
Beyond its consumer business Bosch is also improving business for its professional partners. Through its Automotive Aftermarket division, Bosch's startup EGGmall provides an integrated digital marketplace platform that enables repair shops and retail stores to quickly and precisely obtain vehicle spare parts. Vehicle component searches can be based on vehicle type, VIN and product category. Since the launch of EGGmall in 2021 in Indonesia, more than 1,000 buyers have already joined the new platform.
Sustainability build in
In 2021 Bosch continued its efforts to provide technology and take action to fight climate change. After achieving CO2 neutrality in 2020 for its business operations and research Bosch is continuing its efforts to expand actions further down its value and supply chain. One core aspect of these efforts are in the companies continuous drive for quality. Bosch's home appliances for example, are build to last and backed with 2 years standard and 10 years motor warranty on most products. Helping to reduce replacements and longer life span. Bosch's latest range of dishwashers use only 9.5 litres of water compared to up to 60 litres used by handwash. Helping to reduce water consumption with higher hygienics and reduced energy cost.
Enabled through the engineering core
The contribution of Indonesia's manufacturing sector continues to increase. In fact, since 2010, this industrial sector has continued to provide the largest contribution to the national GDP. With a global manufacturing network Bosch is able to draw on its experience, knowledge and engineering competences to help the lndonesian manufacturing industry to advance and improve competitiveness.
Since 2018, Bosch is producing electronic control units (ECU) at the company's facility in Cikarang, West Java. Part of Bosch's global manufacturing network the plant is fully equipped with the latest Industry 4.0 technologies and competencies and its advanced capabilities were awarded with a Indi 4.0 award by the Ministry of Industry.
Bosch hopes to expand it manufacturing capabilities in Indonesia and sees the growing automotive export market as an opportunity for Indonesia to increase its importance and weight in the region. To support this, Bosch offers its entire range of mobility solutions for car manufacturers in Indonesia. The company's technology is ready for both the classic internal combustion market as well as electrification as recently demonstrated during the initial race of the Formula E in Jakarta were Bosch is one of the main sponsors and technology providers.
To further accelerating the implementation of Industry 4.0 and drive the industries competitiveness Bosch is increasing it efforts to ensure a continuous knowledge build up in Indonesia. In partnership with EKONID, Bosch is preparing a coaching and mentoring program for vocational students in Indonesia to learn and engage directly in practicing Industry 4.0 according to the quality standard of the German educational system.
"Bosch is a part of Indonesia's continued growth story and are looking forward to continuing the positive business development in 2022," Riegger conclude.
Bosch global: A successful business year – Uncertainties cloud the outlook for 2022
Overall, the Bosch Group rose well to the challenges of 2021. Bosch was able to grow sales by 10.1 percent to 78.7 billion euros.
All business sectors contributed to this positive business development. The
Mobility Solutions business sector, which generates the highest sales, recorded
an increase in sales of 7.6 percent to reach 45.3 billion euros. The Industrial Technology business sector was able to increase sales by 18.9 percent to 6.1 billion euros. After a strong showing last year, the Consumer Goods business sector was able to increase its sales again, this time by 12.7 percent to 21 billion euros. The Energy and Building Technology business sector grew its sales by 7.8 percent.
The Bosch Group recorded an increase in sales revenue in all regions. In Europe, sales totaled 41.3 billion euros, an 8.9 percent increase over the previous year. In North America, sales revenue increased by 6.5 percent to 11.4 billion euros. Sales in South America totaled 1.4 billion euros, rising 32 percent. In Asia Pacific, including other regions, sales reached 24.5 billion euros - an increase of 13.1 percent.
Contact persons for press inquiries:
Shinta Maryke
Manager, Corporate Communications & Brand Management
Bosch in Indonesia